Be prepared to watch a heavenly drama on 6 June 2012.
The Venus can be seen as a black dot travelling across the Solar Disk.
Here is my Simulation:
Yes, it is the "Transit of Venus across the Sun"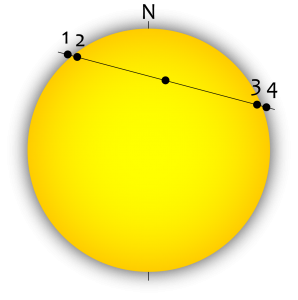 Path-- L to R


Credit: Michael Zeiler, eclipse-maps.com
India comes under the visibility of the event after Sunrise.
See the graphic below:
Thiruvananthapuram can view it right from sunrise to 10:22 AM.
The graphic was prepared using the tool provided in http://transitofvenus.nl/wp/where-when/local-transit-times/
You can change the location and see about your visibility to the drama.
Also read the following blog for wonderful information and graphics.
http://blogs.esa.int/venustransit/
(nice and informative blog by ESA)
http://eclipse-maps.com/Eclipse-Maps/Transits.html
(Transit maps)
http://sunearthday.nasa.gov/transitofvenus/
You can also find how to watch the event....
Follow safe way.... take care of eyes......
Enjoy the phenomena......
otherwise you will have to wait till....2017 Dec 11.